Welcome!
This site features original works by Penelope Nicholas, author and artist, residing in Lowell, Massachusetts. Penelope invites you to browse the site, and if you have any questions, please don't hesitate to visit and comment on her Blog at "Just A Senior And Her Blog," or visit her on Facebook. She will be happy to respond to your inquiries regarding her work or her site in general.
Thank you for your visit… Enjoy!
---
Children's Books: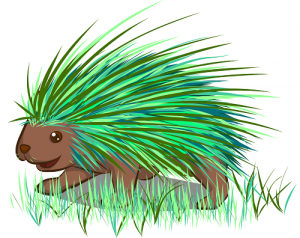 Needles, The Green Porcupine (Now Available)
-all Needles wanted was to befriend the other animals in the forest. He became more than a friend, he became their Hero.
Oshanna Blue
– an adventure story of a little girl who lives in Hawaii and becomes friends with a big black crow.
Tapper Dan, Angel on Cloud 9
– a story of an Angel who takes different forms to help a young boy who was lost in the forest.
Tapper Dan and Swatzie the Thief
– a story of the Angel who helps a thief change his ways.
Princess Julianna and Snowflake
– a story about a princess who learns much about herself and her future destiny after she receives a big white bird as a birthday gift from her father, the King.
Saving Kitso, Our Cat
-a story about how this little kitten escaped the clutches of an ignorant and cruel little boy and won over the hearts of its new caretakers.
Click Here To See All Info On Her Children's Books
---
Non-fiction:
"Cha-Ching! A Medical Nightmare!"
-is available both in Softcover and for immediate download through Amazon's Kindle. This book outlines the trials and tribulations of medical diagnosis and the lack of common sense.
"Antonios, An American Immigrant I Remember"
–is based on the true story of Penelope's immigrant parents who came from Greece and Cyprus and settled in Lowell, Massachusetts to live their American dream. In this classic story, there is a connection that grips all immigrants, and those who were born to immigrants, who will relate to this story.
Click Here For More Info On Her Non-Fiction Books
---
Poetry:
The Alpha Star of Poetry, Book 1
Works include:
Pearl Harbor
Bottles in the Street
Remembrance
A Poet's Prayer
Oh! Beautiful Lilac Tree
The Gift
My Angel Mother
…and many more!  Twenty poems in all and now available through Amazon's Kindle.
---
The Alpha Star of Poetry, Book 2 (Coming Soon)

Works include:
Thanksgiving Day
The Love of Writing
Pearl Harbor
Christmas Through a Child's Eyes
The Star of Christmas
The Bells of Christmas
The Legacy Never Dies
…and many more special Holidays, remembrances, patriotic themes, and poems about everyday life. There are 22 in all and all vintage. These poems make any Special Day Gifts truly unique!
---
Click Here For More Info On Her Poetry Books
Click Here For More Info On Poetry Gift Items: Poetry by Penelope
---
Original Art & Drawings Include:
---
Oil Paintings:

Grecian Warriors
---
Oil Paintings

Contemporary Art
---
Original Drawings:
Oshanna Blue
Tapper Dan, Angel on Cloud 9
Tapper Dan and Swatzie the Thief (Coming Soon)
Princess Julianna & Snowflake